More than 300 young people received job advice from a special careers fair on Thursday night.
Held at Kirkham Grammar School, the fair was the latest 'Your Future Career' event organised by the Young Chamber of Commerce.
It was opened by Edwin J Booth, chairman of both E H Booth and Co Ltd – proprietors of Booths, the grocers of distinction – and the Lancashire Enterprise Partnership, as well as Kirkham headmaster, Daniel Berry.
A number of organisations including the likes of Hays, Danbro, Moore and Smalley, The Army and the BBC were present to provide the attendees with job information and answer their questions about what employers look for in their workers.
"Our careers events are designed to inspire young people to make the most of their education and to think about their future careers," said Hayley Topselvi, the Young Chamber co-ordinator.
"Last night proved an especially popular event, both in terms of the number of companies on display and the young people who went away better informed about their possible career pathways.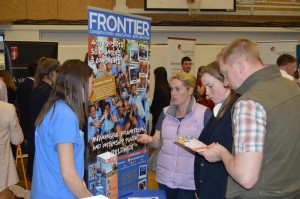 "The feedback we received from the exhibitors as well as the pupils and their parents was wholly positive and extremely gratifying to hear.
"I'd like to thank everyone who gave up their time last night to make it such an enjoyable evening."
Kirkham became the first school to sign up for the Young Chamber earlier this year, following the scheme's launch in late 2015 by the North & Western Lancashire Chamber of Commerce.
School officials were thrilled by the turnout and called upon their pupils to capitalise on what they learned last night.
"We were delighted to work with the Young Chamber in staging what proved a very successful event," added Lorraine Hargreaves, Kirkham Grammar School's Head of Economics and Business Studies and Head of Careers.
"We work hard to ensure our pupils possess the necessary knowledge, skills and qualifications to equip them for life in the working world.
"Events such as these can only reinforce those efforts as well as highlighting the career opportunities available in the local area."