Blackpool town centre based insolvency practice Adcroft Hilton has become an appeal partner and donated £1,000 to the campaign to open one of the UK's first ever acute cancer triage units at Blackpool Victoria Hospital (BVH).
The company, which has its office in Church Street and a sister practice in Carlisle, made its donation to Rosemere Cancer Foundation, which staff have supported for a number of years with fundraising raffles and by taking part in the charity's October annual Walk the Lights fundraiser through the Illuminations.
Along with Blackpool Teaching Hospitals NHS Foundation Trust's own charity Blue Skies, Rosemere Cancer Foundation is raising £150,000 to convert a disused operating theatre at the rear of the hospital's Oncology and Haematology Day Units into a 999 call or walk-in assessment and treatment centre exclusively for the hospital's cancer patients.
The new unit, which will be run by doctors and nurses from the hospital's Acute Oncology Team and which is scheduled to open later this year, will enable local cancer patients to receive immediate specialist care, by-passing the Vic's busy general A&E department that they currently have to attend if their condition worsens, they fall ill or suffer treatment side-effects.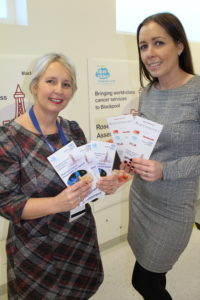 Cathy Skidmore, Rosemere Cancer Foundation's Grants and Corporate Fundraising Manager, said: "We would like to thank Adcroft Hilton for getting behind this campaign, and for the support the company has consistently shown us for several years."
Sheryl Armer, of Adcroft Hilton, said: "Rosemere are a fantastic charity who do such amazing work. This new unit in Blackpool will benefit so many cancer patients and that is just incredible. Many of the staff at Adcroft Hilton have had family members affected by cancer and we understand what this new unit will do to help so many."
It is estimated more than 500 local cancer patients a year will benefit from attending the new acute cancer triage unit, relieving pressure on A&E. Through the unit's specialist oncology 999 treatment pathway, the number of patients needing hospital admission is also expected to fall while treatment outcomes are anticipated to improve.
The incidence of cancer in Blackpool is around 7% higher than the regional average and 20% higher than the national average.
Rosemere Cancer Foundation works to bring world class cancer treatments and services to cancer patients throughout Lancashire and South Cumbria being treated at Rosemere Cancer Centre, the region's specialist cancer treatment centre at the Royal Preston Hospital, and at another eight local hospital cancer units across the two counties, including that at BVH. It does this by funding cutting edge equipment, research, training and other services that would otherwise be beyond limited NHS resources. For further information on its work and how to donate, visit www.rosemere.org.uk