Three organisations had a day with a difference thanks to a visit from Cllr Mary Green, the Mayor of South Ribble Borough Council.
Accompanied by her consort, husband Tony, the Mayor visited Lunar Caravans, St Catherine's Hospice and Cleanall Services on Wednesday.
"It was a real thrill to be able to go out, see local businesses and find out what they do," said the Mayor.
"Businesses play a key role in the everyday fabric of our society in terms of the jobs they create for local people and their economic contribution to the area.
"What was clear from talking to the various members of staff across all locations was the pride they had in their respective roles and how much they enjoyed working for their companies.
"I'm coming towards the end of my mayoral term and I can honestly say this was one of the most enjoyable events I've attended in the last year."
The first stop on her tour was Lunar Caravans, the third largest caravan manufacturer in the UK from their base at Sherdley Road, Preston.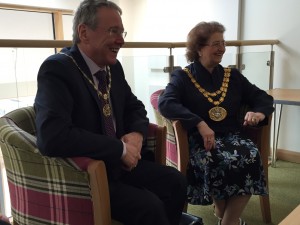 A meet and greet with staff was followed by a tour of the factory where the Mayor was shown the processes involved in building a caravan from scratch.
The tour concluded with the presentation of a bunch of flowers from Lunar's CEO and Chairman, Brian Mellor.
"It was a real honour for us to welcome the Mayor to our premises," said Mr Mellor.
"Building caravans is not an uncomplicated process, so we took great enjoyment in providing the Mayor with a tour of our factory to illustrate the scale of work involved.
"We feel that we are a Lancashire success story and, as such, it was nice to display what we do and show the part played by our locally-sourced staff."
The next destination was St Catherine's Hospice where the civic party chatted with staff and found out the organisation's latest news.
St Catherine's is an organisation close to the Mayor's heart as it is one of the chosen charities for her civic year along with the Rosemere Cancer Foundation and Legacy Rainbow House.
"We were delighted to receive the Mayor as part of her visit to local businesses and organisations," said Lynne Whittaker, Senior Fundraiser at St Catherine's Hospice.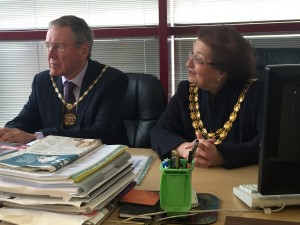 "She is someone we know well here at the hospice and it's always enjoyable to sit down and share the latest hospice news with her.
"As a local charity which depends on the support of our local community, it's great to know we have that level of support from such a high profile public figure."
The Mayor's final stop was Cleanall Services, winners of last year's Excellence in Customer Service and Service Business of the Year categories at the Be Inspired Business Awards (BIBAs).
She met with staff and enjoyed a tour of the warehouse and office departments at their headquarters on Aston Way, Leyland.
"Welcoming the Mayor to our headquarters was something we had looked forward to immensely," said Ian Gilston, the Managing Director of Cleanall Services.
"What was clear from speaking to the Mayor was her genuine interest in how we, as a business, operated and the products we provide.
"It was also nice to see the time the Mayor and her consort took out to chat with our staff across all departments, a gesture which I know they greatly appreciated."