The results of the latest Quarterly Economic Survey (QES) from the Chamber of Commerce indicate a positive start to the year for many Lancashire firms with most key measures in the survey improving on the previous quarter.
The Q1 2018 survey, compiled by the county's three Chambers of Commerce in association with MHA Moore and Smalley Chartered Accountants and Business Advisors, shows that the service sector had a much improved quarter in terms of domestic markets.  However, the local economy was boosted by a strong export performance from Lancashire's manufacturing sector, which saw export sales and order balances reached record highs for this survey.
There was also positive news on employment with all of the employment balances strengthening and just over half of the firms in the survey attempting to recruit staff.  However, there are still significant concerns over skills shortages, especially in the manufacturing sector where 84% of firms with recruitment difficulties said they had problems finding skilled manual workers.
Commenting on the results, Alan Welsh, Policy Manager at the North & Western Lancashire Chamber, said:
"This is a promising set of figures given the weakness in the economy highlighted by our Q4 2017 survey. Lancashire's exporters have enjoyed another strong quarter, boosted by the improving outlook for the global economy and lower sterling.
"However, both sectors remain under pressure to raise prices as result of higher raw materials costs and increasing overheads.  With domestic growth relatively weak, the Bank of England will once again have a difficult decision to make on interest rates if they want to control inflation without choking off consumer spending.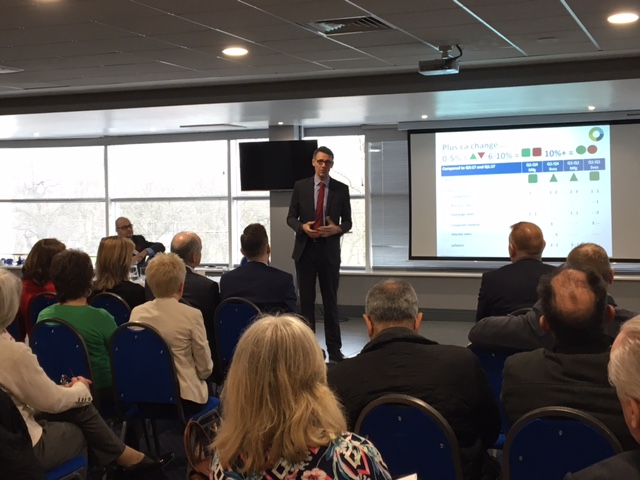 The results from the Chambers of Commerce survey were revealed to an audience of local businesses at Preston North End this morning (Tuesday 17th April) by Stephen Gregson, Corporate Finance Director at MHA Moore and Smalley. (pictured)
Commenting on the survey, he said:
"A very interesting set of results again. A clear sense of improvement emerges in comparison to last quarter and a year ago. But, as ever, the real value of the QES is the questions it prompts.  For instance, is it better this time because it was weaker than normal a quarter / a year ago?  The QES doesn't always give us answers – and it would be wrong to expect it to.  But as a pointer to what businesses, what all of us, should be thinking about when it comes to the economy, it has delivered once again…"