It might be a long way from restoring law and order to restoring VW camper vans but it's been a long and successful one for Mark Ritson.
His Morecambe-based 'Morecambe and Wize' company has found top gear with numerous orders for their work, based around supplying vans – most of which were originally made between 1963 and 1978.
Founded in 2008, the firm was initially a part-time commitment as Mark was also a policeman with the Cumbria Constabulary.
Three years later it became a full-time occupation, one that has seen the company go global.
"We had two camper vans we hired out to people," Mark (pictured) said of his company's origins.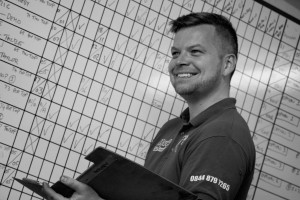 "What we found was people were looking to buy them, so we bought one from America off the internet, sub-contracted it to various different companies and then sold that.
"Then we had two other sector customers who came in and said they wanted one, so that's how it all started."
They can now enhance their development with the award of a grant worth £12,803 from the Lancashire Business Growth Fund.
That money will go towards the purchase of a CNC machine, spray booth, compressor and tyre changer, dust extraction, associated building works and electrical work.
The company's total investment comes in at £64,018 with the safeguarding of two new jobs and the creation of another three.
Those new roles augment the eight members of staff based in Morecambe and another five elsewhere who work on the firm's website, marketing, social media, publicity and national advertising.
"Because what we do is quite a niche market, our business model is completely different to other companies in the market sector," Mark said.
"We're very good at portraying what we do and this company is built on teamwork; everyone's role is as important as each other's.
"Yes, I make the decisions as the director but we all run it; everyone puts in feedback which I think is why our employee retention is pretty good.
"There's a great sense of ownership, which they need because it can be an intensive, frustrating process dealing with old vehicles."
That restoration process is one which requires patience, both from staff and the customer.
The vehicles are bought in from the USA and Brazil with each restored van taking 740 hours to complete – a six-month process split across four different departments.
While other companies might merely concentrate on bodywork or interiors, Morecambe and Wize have brought more of their products and services in house.
That level of service, along with the quality of work provided, now means the vans are being exported back to the USA for customers there.
New Zealand is another destination, along with China, where a company has signed a five-year agency agreement with Mark's organisation.
"Our business model is one where we offer a build to order programme," he explained.
"We call it an 'options programme' which is unique to us in the market we're in.
"It's a transparent system where we offer different options to the customer so it's a bespoke product for that customer.
"As an example, we have several different interiors so it is very much like buying a new car."
The Regional Growth Fund-supported Lancashire Business Growth Fund is a programme offering capital investment grants and international trade support to businesses across the county.
The programme has been launched by the county's two accredited Chambers of Commerce – East Lancashire and North & Western Lancashire – in partnership with Regenerate Pennine Lancashire and is intended to create 600 new jobs and safeguard a further 200.
Its key aim is to accelerate the creation of sustainable jobs by encouraging companies to bring forward growth projects on a bigger scale with a larger impact at a time when those jobs are most needed.
Businesses bidding for grants from the scheme can claim up to 20 per cent of the total project costs with the remaining costs leveraged from the bank or investment.
To be eligible for the programme, projects must involve the acquisition of new premises, infrastructure, machinery, expansion or another suitable form of capital investment.
Businesses are also required to demonstrate how many jobs will be created through the project in order to be accepted onto the scheme.