'Get Informed' with Fresh Perspective Resourcing
March 10, 12:00 pm

-

2:00 pm
Event Navigation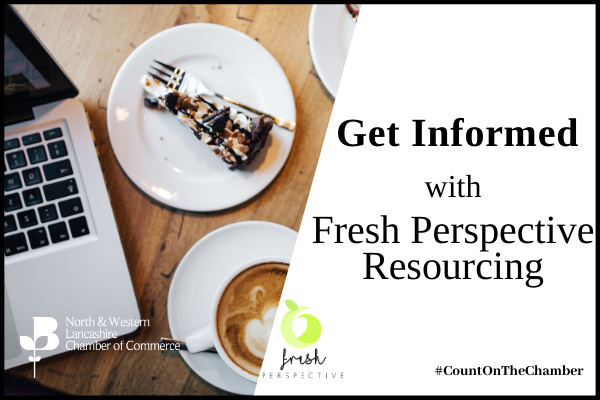 Good food, great connections and expert advice on "How to care for your terrific teams and keep hold of them".
The North and Western Lancashire Chamber of Commerce, in partnership with Fresh Perspective Resourcing present the first 'Get Informed' working lunch of 2020.
The event will be run by Laura Leyland, Managing Director of Fresh Perspective Resourcing.
"In an interactive and engaging session, Laura & the FP team will assist businesses with overcoming your recruitment & retention issues. They will cover some of the most important aspects of how to attract & then keep hold of your fantastic staff"
The workshop will cover:
Sharing stories & case study information
Attracting candidates
Communicating with and contacting candidates
Interviewing
Retaining talent
Employee engagement

Inclusion
Well being
Values

Company culture
Team building
With a "Fresh" & unique approach to recruiting, and as employers themselves, they know what a positive impact hiring the right people can have on a growing business. It should be an exciting event that's focused on finding people who match your company's values and aspirations.
This invaluable event will include a buffet style lunch in order to facilitate networking and provide you with some key information to take back to your business. It's also a great opportunity to meet other business people from the Lancashire area and expand your professional network.
This event has limited places and is anticipated to sell out, so make sure you book as soon as possible to avoid disappointment.
Cost
Members – Free + £2+VAT Commitment Fee
Non-Members – £8.95+VAT (Includes Commitment Fee)
To reserve your place please email danielc@lancschamber.co.uk