'Get Active' with 4 LANCS Army Reserves
18th June 2020, 9:00 am

-

5:00 pm
Event Navigation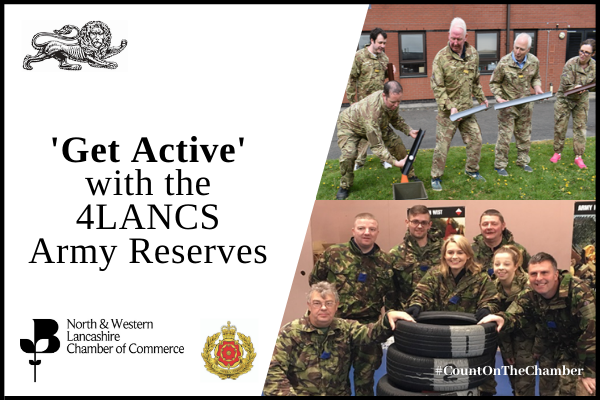 The North & Western Lancashire Chamber of Commerce invites you to 'Get Active' with 4 LANCS Army Reserves.
On Thursday 18th June, the Chamber in association with 4 LANCS Army Reserves will be hosting 2 half day corporate team building events at the Preston Reserves Centres (ARC)
These half day events are designed for business individuals or groups to learn many of the transferable skills that can be taken back into your workplace, whilst also having fun.
What the day will consist of:
Brief on 4 LANCS & the wider Army Reserve
Command tasks focusing on leadership & team communication skills
Teaching on how to strip and assemble the A3 Assault Rifle
Weapon stripping race
Lunch/ refreshments provided
All PPE & combat clothing provided
These events will be run as a competition with a maximum of 30 attendees per half day. (60 Total)
The Duke of Lancaster's is a proud infantry regiment from the North West of England, whose reputation is built on physical and moral courage, loyalty, quiet determined professionalism and a will to win forged in the heat of battle
The shape of our Army is changing. By 2020 it will include 30,000 trained Reservists. Our Army Reservists are skilled people who can transfer their skills and knowledge between both business and Defence.
Support to Reservist officers and soldiers is critical to maintaining our Armed Forces capability. Our government remains committed to growing the Reserves, continuing to invest the extra £1.8 billion allocated in 2013. Your business can benefit from this too.
Important Info:
All activities risk assessed
Consent Forms and physical activity questionnaire must be completed before the event by all attendees
Times Available: AM (0900 – 1330) or PM (1300 – 1530)
Lunch to be served for both groups 1300-1330
Cost: (Includes Lunch)
Members
1-2 Places – £15+VAT p/p
3+ Places – £12+VAT p/p
Non Members
1-2 Places – £20+VAT p/p
3+ Places – £17+VAT p/p