Circular Economy Club Launch
18th June 2019, 10:00 am

-

1:00 pm
Event Navigation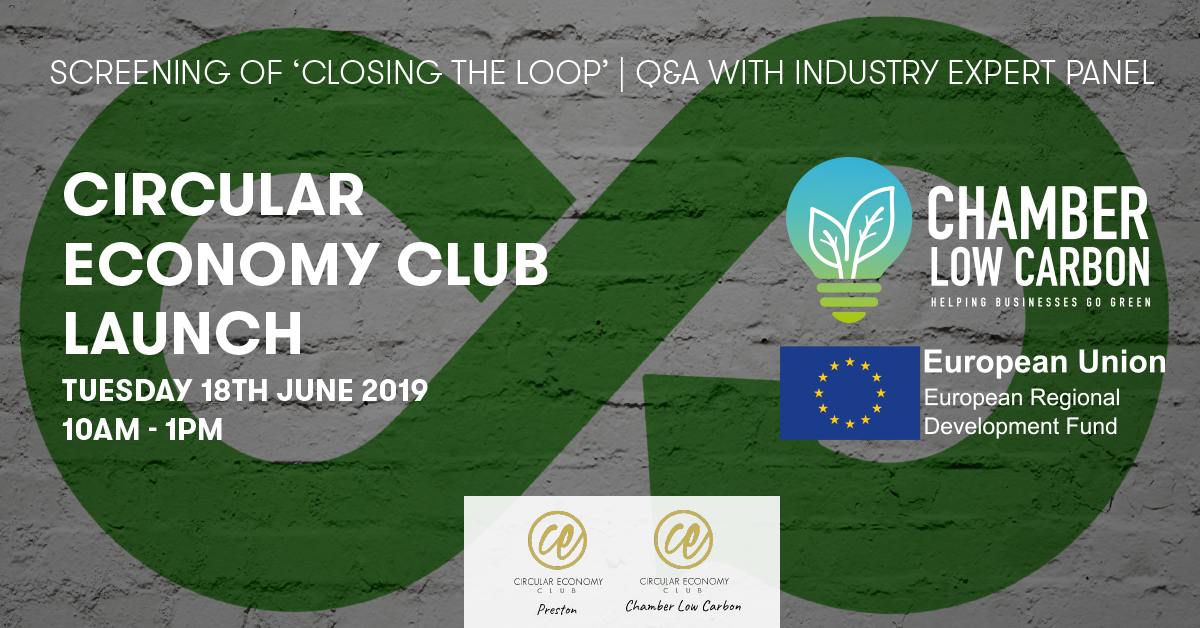 Circular Economy Clubs comes to Lancashire!
The two Circular Economy Clubs based in Lancashire, Chamber Low Carbon CEC and Preston CEC are combining for this launch event. We will be showing the world's first feature-length documentary on the circular economy, "Closing the Loop" which explores five key strategies for achieving circularity – reduce, reuse, recycle, renew and reinvent.
This will be followed by a Q&A session with a panel of experts drawn from local industry, resource management and social enterprise – watch for announcements of who will be involved.
Join us for this free event giving Lancashire businesses and organisations the opportunity to be involved in the move to a cleaner, greener, more sustainable world.
Registration will open at 9:30am with refreshments; the event will begin at 10am. Following the screening and panel Q&A we will break for a light lunch and chance to network with your fellow attendees.
About the Circular Economy Club
The Circular Economy Club (CEC) is the international network of over 3,100 circular economy professionals and organizations from over 100 countries. Non-for-profit, global and open to anyone to join the club for free.
Vision: We envision a new era where all cities worldwide function through a circular model, setting the end of an age of waste.
Mission: We aim to bring the circular economy to cities worldwide by building strong local networks to design and implement circular local strategies, embed the circular economy in the education system and help circular solutions scale.
The goals by 2022 are:
Bringing together local actors to create circular economy strategies in 200 cities.

Embedding the circular economy in 200 university curriculums.

Supporting 200 startups and companies to implement circular practices, through mentoring, funding and communications.
About "Closing the Loop"
"Unless we go to Circular it's game over for the planet; it's game over for society". These are the opening words of the world's first feature-length documentary film on the circular economy, called Closing the Loop. Going "circular" refers to the necessary change from our current take-make-waste linear economy to a borrow-use-return circular economy (sometimes also referred to as the zero waste or cradle-to-cradle economy).
The film is directed by award winning filmmaker Graham Sheldon and presented by global sustainability expert, Prof. Dr Wayne Visser. And despite its dire warnings – John Elkington, famous for coining the "triple bottom line" of sustainability says in the film: "if we continue with the linear economy, we are, to use a technical term, totally screwed" – it is an optimistic film about innovative solutions.