Chamber Green Rose: Environmental Management Masterclass Series
16th October 2019, 9:00 am

-

1:00 pm
Event Navigation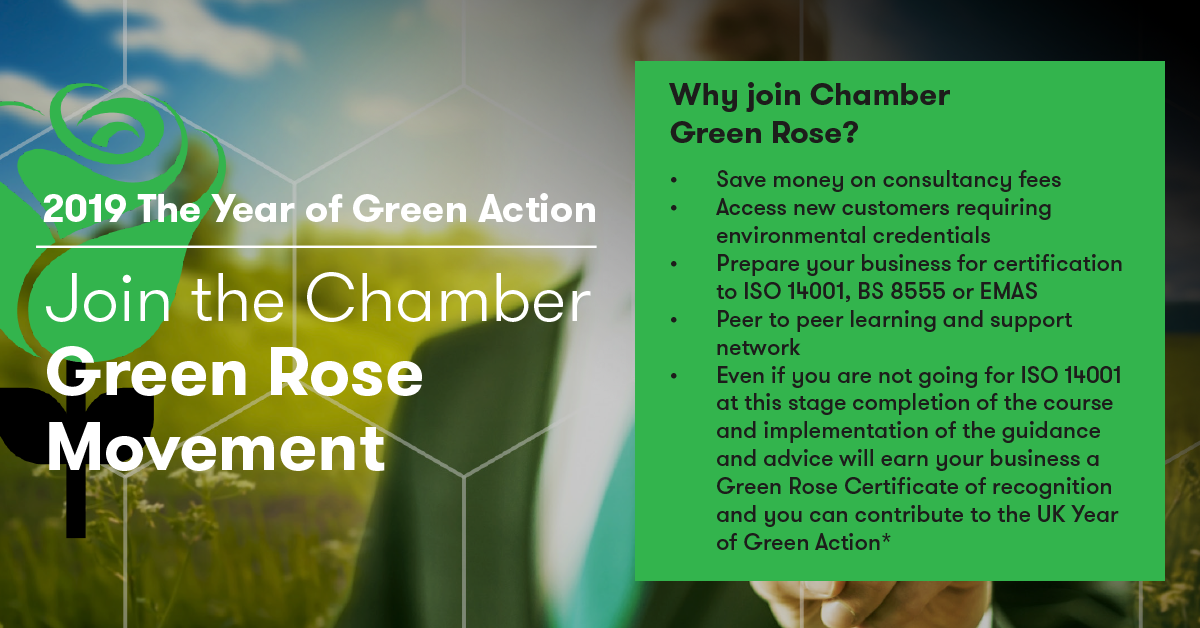 The Chamber Green Rose has already successfully helped a large number of Lancashire businesses to implement an environmental management system. A new group is starting in Blackpool on 16th October and will provide support over six monthly masterclasses to put in place recognised system meeting the requirements of ISO 14001, BS 8555 or EMAS.
Why join Chamber Green Rose?
• Save money on consultancy fees
• Access new customers requiring environmental credentials
• Prepare your business for certification to ISO 14001, BS 8555 or EMAS
• Peer to peer learning and support network
• Even if you are not going for ISO 14001 at this stage completion of the course and implementation of the guidance and advice will earn your business a Green Rose Certificate of recognition and you can contribute to the UK Year of Green Action*
Delivery of six half day workshop sessions as follows:
Session 1 – 16th October
• Environmental awareness and introduction to climate change
• The benefits of improved environmental management
• Introduction to environmental management standards
• Gaining commitment and demonstrating leadership
Session 2 – 12th November
• Establishing the context within which the business operates
• Identifying, understanding and documenting interested parties requirements
• Identifying and understanding environmental impacts
• Environmental legislation and the regulators
Session 3 – 10th December
• United Nations Sustainable Development Goals
• How to assess an organisational carbon footprint and develop a carbon management plan
• How to compile a register of compliance obligations
Session 4 – 7th January
• Setting Objectives
• Introducing environmental management programmes
• Roles, responsibilities and awareness
Session 5 – 4th February
• Implementation and communication
• Operational Control
• Emergency preparedness
Session 6 – 3rd March
• Internal Auditing
• Non-conformance and corrective action
• Management review
• What is involved in the accreditation process
On-site support (2.5 days)
Day 1 – Conducting baseline review
Day 2 – Documenting baseline review
Half day – Pre-inspection audit
Support and guidance provided throughout the 26-week period
To book your place or for further information email geoffm@lancschamber.co.uk or call 01253 347063.