Almost 1,000 new businesses have been launched in North and Western Lancashire thanks to a joint initiative between the local Chamber of Commerce and Jobcentre Plus.
The Chamber has held the contract to run the Government's New Enterprise Allowance (NEA) since its launch in 2011, and through it, 920 fledgling businesses have got off the ground in the area.
The NEA provides a weekly allowance for 26 weeks amounting to £1,274 to the new business, as well as a personal mentor to help develop the idea and provide ongoing support.
And according to figures published today by the Department for Work and Pensions, broken down into local authority areas, since April 2011, 210 businesses have gone through the programme in Lancaster, 170 in Blackpool, 120 in West Lancashire, 100 in Chorley, 90 each in Wyre and South Ribble, and 70 each in Fylde and Preston.
North and Western Lancashire Chamber of Commerce chief executive Babs Murphy said: "The NEA has provided a vital step into the business world for almost 1,000 people now and more fantastic and unique ideas are being brought to us on a weekly basis.
"The people coming to us are often those who have been made redundant from their previous jobs and are looking to finally put that long-held business idea into practice.
"It is great for us as a Chamber to know that we have helped so many businesses get off the ground and also to know that such a wide variety of businesses exists in the county.
"We all know Lancashire is a great place to do business and these new ventures are the tangible proof of that."
Employment Minister Priti Patel said: "Through this scheme, we are helping to unlock the talent and entrepreneurialism of the great cities in the north and central England, with these areas showing the highest number of jobseekers turning a big idea into a business.
"Starting up in business successfully needs so much more than just funding – it needs the right support and advice at the right time, and we're doing just that through the New Enterprise Allowance scheme.
"We will ensure that every part of Britain, including the northern powerhouse, benefits from a growing economy and that everyone who works hard gets the opportunities they need to succeed."
The NEA is open to those aged 18 or over who have a business idea and are in receipt of Jobseeker's Allowance, Income Support as a lone parent or Employment and Support Allowance.
Often those entering the scheme have suffered losing their jobs through redundancy or due to serious health problems and are looking for a way to get a new business up and running to get back on their feet.
To find out more about the New Enterprise Allowance, which is funded by the Department for Work and Pensions, visit your local Jobcentre Plus where an adviser can refer you to the scheme once you receive a qualifying benefit.
For the statistics in full, visit www.gov.uk/government/statistics/new-enterprise-allowance-april-2011-to-march-2015
Some of the businesses who have gone through the NEA scheme include: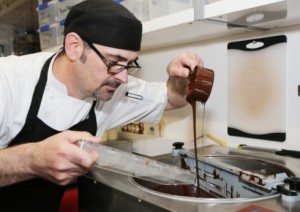 Lancashire chocolatier Paul Williams is preparing for the World Finals of the International Chocolate Awards (ICA) – but it all started in a small corner of a Chorley shopping outlet with the help of the New Enterprise Allowance.
Since launching Choc Amor from a small unit at Chorley's Botany Bay in 2012, Mr Williams has won four Great Taste Awards, including a coveted two-star award, and this year picked up four gongs in the British leg of the highly competitive ICAs, meaning he will now take his chocolates to the world stage in October.
Mr Williams, 44, who is originally from Hartlepool but moved to Lancashire 13 years ago with his wife and business partner Jacqui, had previously worked in commercial finance for two decades before being made redundant and had been struggling to find work for 12 months.
Along with his wife, he put together the Choc Amor business plan and was accepted on to the NEA programme within 48 hours.
And from making the chocolates in his kitchen to sell in a tiny corner at Botany Bay, he has now upgraded to a larger unit and in 2013 launched a second outlet at The Chocolate Rooms café in Tarleton and the business now employs 15 people.
Mr Williams said: "The New Enterprise Allowance helped us to raise our profile and made us look at what else we could do with the business because of the support on offer.
"For anyone who is starting up, that little bit of extra cash really does go a long way."
He added: "For the first seven months, we manufactured from our kitchen at home and sold from a small unit at Botany Bay. Within a few short months, the business started to come to life and in September 2012 we moved to a bigger unit.
"After the first year at Botany Bay, space became limited and the idea of The Chocolate Rooms was born. Today we still have a shop which is fully stocked with our award-winning chocolates and much more.
"We were lucky to find a beautiful and picturesque building set in the heart of Tarleton village and after extensive refurbishment, The Chocolate Rooms opened to the public in September 2013. 
"We are now building a reputation for possibly the best hot chocolate this side of the Channel and food to die for."
Choc Amor also provides event catering and attends food festivals to showcase its range of flavours which include 'chilli and lime' and 'orange jalfrezi', as well as the more orthodox chocolate flavours.
Mr Williams said: "My passion for food and creative cooking have had a huge influence on the chocolate I offer and this has allowed me to marry together combinations of ingredients, resulting in flavours that sound wrong but once tasted are so right."
---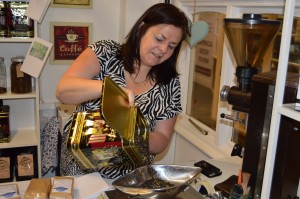 Charlotte Devlin, 43, managed departments of Asda stores in Accrington, Fulwood and Clayton Green before taking redundancy last October so she could help to look after her mum.
But it was in the years previous to this, while studying at UCLan and working part-time at the coffee shop in the city centre's Miller Arcade, that she developed her real passion for tea and coffee.
And with the help of the New Enterprise Allowance, Charlotte, a lifelong Prestonian, has opened Lottie's Coffee and Tea Cavern at Botany Bay in Chorley, just off the M61.
She said: "I had always thought about coming back to the tea and coffee trade and starting my own business, I just didn't expect it to happen so soon.
"I often came to Botany Bay with my godson and we were here in March when I looked at the unit and thought it would be great to start a business inside it.
"I took the idea to the Jobcentre and they loved it, referred me to the NEA and the rest is history."
Charlotte's business is based in the Botany Bay food hall and opened on May 23, just in time for the bumper bank holiday weekend.
She said: "The response so far has been great and I have been getting lots of good feedback on my Facebook page. I am looking to start selling online soon and have already taken orders via Facebook.
"The NEA gave me some vital financial help and the support from it has been phenomenal.
"Now I am thinking of applying for a loan that is available from the scheme so that I can look to expand the business."
---
Blackpool entrepreneur Rob McLintock, a former training manager at Whitbread's Brewery, was forced to leave his job as a pub manager when he was diagnosed with cancer of the larynx.
Having been given the all-clear after a two-year battle with the disease, last year the 48-year-old came up with Best Cellar, which aims to bring consistency of customer service and product quality and improve the overall standard within the pubs industry.
With the help of the New Enterprise Allowance, Rob has taken it from just an idea to an operational business with a number of clients already registering an interest in his service.
He said: "I left the front line of the industry after recovering from illness and spent several months examining the issues faced by operators and their teams of managed, tenanted and free trade pubs and realised I could help them.
"I have been a trainer for one of Britain's biggest companies as well as a proprietor of a country inn, general manager and an area manager so can empathises with all those involved in hospitality.
"When I was a pub operator I could not find people to do these jobs for me. There is nobody doing this."
Best Cellar provides in-house training which includes a cask ale masterclass, cellarmanship and customer service courses. It provides a pub health check ensuring compliance on issues such as cellar gas safety and cleanliness of ice machines and glass washers and also undertakes cleaning and maintenance including renovations, repainting and repairs as well as careful industrial pressure-washing of sensitive areas.
Mr McLintock, a fellow of the British Institute of Innkeepers (BII) and a member of the Society of Independent Brewers Association (SIBA) as well as Camra (Campaign for Real Ale) has already found success in enlisting one of the North West's leading breweries, Robinson's, as a client.
He said: "I will be providing a service to their tenanted estate that includes a business health check and supporting those new to the industry.
"The business is growing and I have gone from Carlisle to Congleton in recent weeks.
"I am very passionate about this industry and am here to help those in it. I could not have started without the help and support I have received from the New Enterprise Allowance and the North and Western Lancashire Chamber of Commerce.
"The NEA has been vital to me and it is a fantastic scheme."
---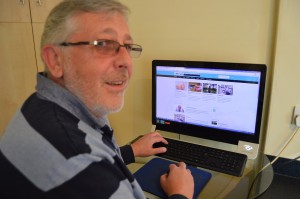 Kevin James had his own courier business in the Midlands until one of his key clients went out of business, taking his firm down with it and after taking some time out staying with family in Spain, he decided to return to Lancashire to start getting back on his feet.
Originally from Preston but now living in Leyland, Mr James, 59, has launched www.menalia.com (the suffix 'alia' meaning 'all things referring to'), an online community aimed at men aged 45 and over and focusing on the changing role of the sexes over the past decades.
Mr James, a former newspaper sales manager at the Chorley Guardian, said: "During the war, the role of women in society changed. The men went off to fight and the women went out to work in the factories.
"Since then, the role of women has changed a great deal. No longer are they at home cooking and cleaning while the man of the house goes out to work.
"What interests me is how men of my age have coped with this change to society over the years. Growing up, my role models were very different to how men are supposed to be now. But how are men who are 45 and older coping with these changes and how are they adapting physically, emotionally and mentally?"
Mr James said he felt the best way to open this discussion was to launch a virtual community.
He said: "It is a bit like a virtual pub or allotment. Somewhere men can gather and talk about things.
"It is not misogynistic or resenting women. In fact it is embracing and celebrating these changing times where women have become equal to men and the articles I have written so far are meant to be more thought-provoking than anything else."
Mr James's long-term goal is to have a large online community of members using the site's forums and reading the content, which includes articles, reviews and even an 'Agony Uncle', while also contributing articles to the site themselves.
He added: "The NEA has given me the opportunity to focus solely on the website and means I don't have to participate in the obligations of being in receipt of benefits.
"There is also a host of mentoring opportunities there that I know I can tap into if I ever need to and there has been a lot of positive support from the Chamber of Commerce along the way."
---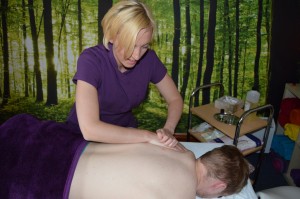 Clare Jackson, of Longridge, had worked as a volunteer co-ordinator for 12 years before local authority budget cuts saw her made redundant last year.
A long-held passion for holistic therapies and lifestyle saw her enroll on a course at the Preston Therapy Centre while signing up for Jobseekers' Allowance at the Jobcentre.
But Clare, 42, who has two children, Millie, nine, and Jacob, six, with her long-term partner Mick Marsh, said she had never contemplated starting her own business.
She said: "I had started researching for what jobs were available and it looked as though I would have to be based at a clinic paying a commission to provide my service.
"I was getting a bit low on confidence having spent a long time going to the Jobcentre but then I got an interview with a careers adviser who was fantastic.
"She mentioned the NEA and explained it all to me and it was at that point I thought I could work for myself, which would be by far the best option for me."
Clare was accepted on to the scheme and, after passing her exams in February, launched 'Connective Healing', her own holistic therapy business in Longridge, offering deep tissue massage, Swedish massage, Indian head massage, hot and cold stone therapy, pregnancy massage, holistic facials and reiki.
She also sells and uses organic products from Neal's Yard Remedies online via her Facebook page and provides a variety of green teas.
She said: "I like to provide the full package, so when people come in for a treatment they have a sit-down consultation where we talk about what they eat and drink, how much they exercise and what the problem areas are within the body.
"After a massage, it is possible that a person may experience contra-actions, this varies according to their physical and emotional condition. If the body has been under a considerable amount of stress, it is not unusual for there to be some kind of reaction as the body adjusts itself back to balance, so after a treatment we sit down and have a pot of green tea to help the lymph system flush through the toxins.
"I have launched a partnership with Mystery Tea House in Preston, which is great, and people have bought teas from me after trying them at the end of a session."
Clare said without the help of the New Enterprise Allowance she would never have launched her own business.
She said: "The NEA made me realise that this was achievable and that I was able to do it.
"I also had incredible support from my mentor, Norman Tenray, who was inspirational to be honest. I was at a real low point when I had an appointment with him and he helped me to simply focus and gave me the courage to move forward."
---
Originally from Greece, Georgios Toliadis ran his own beekeeping firm in Patras beneath the Pelopennese Mountains before emigrating to the UK with his English-born wife last year.
Having moved to Lancaster and registered as unemployed he turned to the New Enterprise Allowance in a bid to launch his firm Little Beekeeper, importing raw, fully traceable honey from beekeepers in Greece.
Mr Toliadis said: "Most of the honey imported up to now in the UK is in bulk and it is a blend that comes from many different beekeepers from one country or even more than one country.
"Little Beekeeper offers the benefit of fully traceable raw honey which is imported into the UK from individual 'little beekeepers' in Greece under the same label, without altering the original quality."
Before becoming an apiarist in his home country, Mr Toliadis studied agronomy at the University of Athens and worked in the food industry for several years, before studying for an MSc in Aquaculture Management at the University of Stirling in Scotland.
He said: "Having spent some time as a fish feed nutritionist, financial problems led me to look for a new career and, having always had a passion for creating food using natural methods, I found beekeeping gave me the ideal chance to do this.
"From the day I moved to the UK it was my dream to make a business out of my passion for honey but without the NEA I wouldn't have had the chance to get started.
"Thanks to the financial input and the mentoring and support, I was able to get the business going and now I look forward to seeing real organic Greek honey in shops throughout Lancashire and beyond."