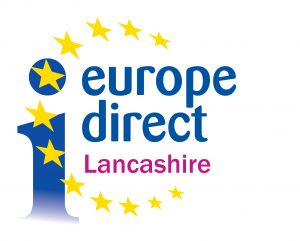 Europe Direct Lancashire is part of a network of 15 Centres in the UK and 500 across Europe which aim to act as an interface between citizens and the European Union at a local level. The Centre is designed to give members of the public local access to information on the role of the European Union, how it operates and the treaties that underpin it.
The Centre also displays material on a variety of topics and views on the European Union, and explains what the European Union does and why it is relevant to the people of Lancashire and the UK.  It provides free telephone access to the Europe Direct telephone information service and web access to the Europa website.
The Centre is accessible from 9am until 5pm Monday to Friday.  You can drop into the Centre, contact us by phone on 01772 653000 or email europedirect@lancschamber.co.uk.
Europe Direct Lancashire is co-located with North & Western Lancashire Chamber of Commerce and operates from premises in Preston and Blackpool. europedireect@lancschamber.co.uk
The Investment Plan for Europe
The Investment Plan for Europe aims to encourage investment in order to create jobs, boost growth and competitiveness, meet long-term economic needs and strengthen the EU's productive capacity and infrastructure. It supports investment in the real economy through a pipeline of EU-based projects, creates an investment-friendly environment by removing barriers to investment and mobilises public and private resources. The key element in this last strand is the European Fund for Strategic Investments (EFSI), which encourages investment in infrastructure projects and small and medium-sized enterprises (SMEs).
Click here for further details.