Women mean Business
September 14, 9:00 am

-

12:30 pm
Event Navigation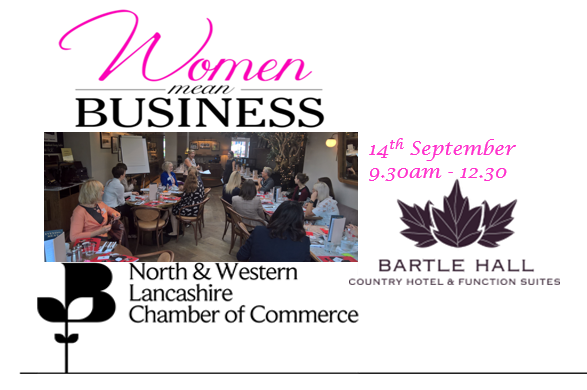 Women Mean Business is a forum for professional leadership and development created to inspire, motivate and support women in business.
For this event  I am delighted to welcome Wendy Bowers* and John Huckstepp* to present and then we will introduce our debating panel.
Michelle Piertney, (ACAS), Angela Sterri, (Santander), John Huckstepp, (a blank Canvas Ltd), Wendy Bowers, (Role) and an employment law specialist will be forming the panel and discussing issues relating to the Gender Pay reporting and specifically the role which flexible working can play in reducing this Gap.
DEBATING PANEL:
From April this year it became mandatory for all companies with 250 or more employees, to publish statutory calculations every year showing how large the pay gap is between their male and female employees.
As a result, employers should consider taking new or faster actions to reduce or eliminate their gender pay gaps
Many leading employers are recognising that workplaces need to change and this debating session in our Women means Business event on the 14th September will look to discuss challenges and opportunities relating to this.
This morning event will be running from 9.00am with a 9.30am start, refreshments and elevensies will be available and we will aim to conclude at 12.30.
To reserve your place, call 01772 653000 Or email chamberevents@lancschamber.co.uk
Prices: 
Members: £25+ vat
Affiliate members: £35 + vat (or membership price as a taster)
Non-members: £45 + vat (or membership price as a taster)
*Wendy Bowers is an experienced strategic adviser with over 30 years hands on experience of manufacturing, distribution, tourism and leisure and professional services. Known for 'getting things done', she works with clients to develop strategy that works in practice. She has worked at directorship level in local, regional and national organisations, including the British Chambers of Commerce national board where she was a regular adviser to government re small business and women in enterprise.
Her latest business venture, Role, enables employers to develop successful growth strategies and access training, mentoring and coaching from Role's team of associates. 
*John Huckstepp presents on leadership, performance, culture and risk at CIPD and I.Chem.E. conferences as well as to corporate clients including Siemens, Public Health, Imperial College and Central Government.  He is author of the Human Resource Practitioners Guide to Health, Safety and Corporate Risk, and he works closely with several rapid growth small to medium enterprises.  John is a Chartered Fellow of the CIPD, a Specialist Fellow of the IIRSM and a Technical Member of IOSH.