HR FORUM: Occupational Health Policy & Procedures
February 22, 8:30 am

-

11:00 am
Event Navigation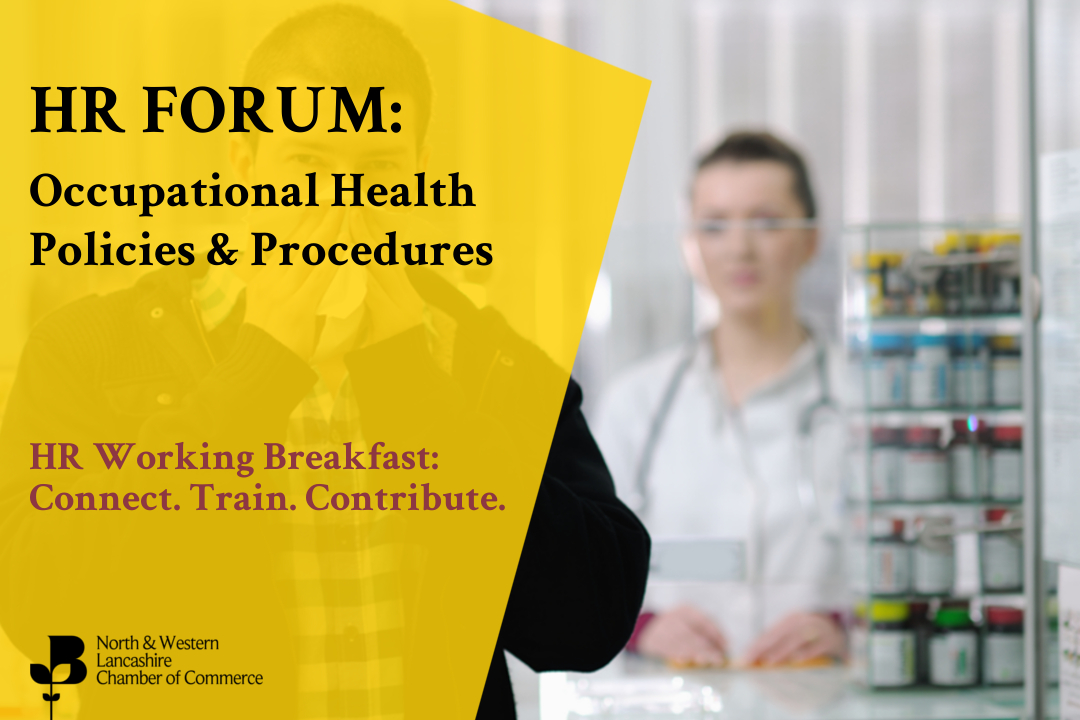 This HR Forum will focus on the best-practice procedures and policies for occupational health which will help business owners, employee representatives, HR professionals, and operations managers provide a healthy work environment which reduces work-related illness and absence. We will discuss the leading causes of work-related illness, stress management, and how to develop an occupational health policy for your company.
This working breakfast will feature HR, Health, and Legal expertise to lead the discussion in best-practice in providing occupational health in an ever-changing work climate. A Question and Answer panel will follow the micro-training sessions along with one-to-ones for interaction with other HR professionals and Managers.
This forum and network is always open to HR professionals, business owners, managers or anyone with a responsibility for any aspect of human resources within an organisation.
The event will be held at Rosemere Cancer Foundation in Preston to help raise awareness and support for their efforts in the community. Refreshments and a light breakfast will be provided along with a perfect atmosphere for networking opportunities and one-to-one discussions before and after the presentations.
Event Agenda:
8:15-8:30 – Registration and Check-in
8:30-8:50 – Breakfast HR Professionals Networking
8:50-9:00 – Introductions and Overview
9:05-9:25 – John Huckstepp, A Blank Canvas Micro-Training

John will provide us with an overview of occupational health and will discuss a list of primary causes for work-related illness and absence.

9:25-9:45– Sandra Marshall, Engagement People Micro-Training

Sandy is an associate of Engagement People who conduct our "stress management" training here at the Chamber and as "stress" is one of the leading causes of work-related illness, she will provide delegates with a few approaches to managing stress in themselves and others in the workplace.

9:50-10:00 – Refreshment Break
10:00-10:20 – Sarah Astley, Harrison Drury Solicitors

HR legal expert Sarah Astley will give delegates sound practical advice on setting up a framework to manage absence in the workplace which will help provide accountability to the long term wellness of staff.

10:25-10:45 – Q&A Panel – John Huckstepp, Sandra Marshall, and Sarah Astley
10:45-11:00 – Networking, one-to-one meetings
Remain up to date on the latest developments regarding organisational health in the workplace for Business Owners, Managers, Human Resource, and personnel departments while connecting with other Professionals with similar responsibilities and challenges, through micro training, forum discussion, and connection to other HR Professionals.
VENUE INFORMATION:
Rosemere Cancer Foundation
Sharoe Green Lane
Fulwood, Preston
PR2 9HT
Venue Parking Instructions:
Delegates may utilise the car park on the west side of the facility for quick access to the foundation. Parking is approximately £3 for the morning, however, we will deduct that amount from the booking costs below to help cover your parking expense. Please click this link for a map, Rosemere Cancer Centre is No 54 (grey area) .
Visitors Car Parking is A Car Park to the right as you enter the Hospital entrance from Sharoe Green Lane.
Price: (Includes a light breakfast and refreshments)
Members: £20+ vat
Affiliate members: £25 + vat
Non-members: £30 + vat